American Maintenance & Supplies was awarded its 8(a) certification from the Small Business Administration, allowing us to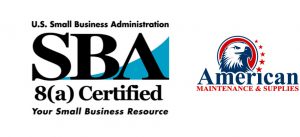 provide services to Federal Government facilities.
The SBA 8(a) Business Development Program is a business assistance program for small disadvantaged businesses. The 8(a) Program offers a broad scope of assistance to firms that are owned and controlled at least 51% by socially and economically disadvantaged individuals. In addition, the following requirements must be met to be certified:
The individual(s) must be an American citizen, by birth or naturalization.
The business must be a small business.
The business must demonstrate potential for success.
The principals must show good character.
Offering the Same High-Quality Services to Government Facilities
American Maintenance & Supplies now offer the same high quality services to the Federal Government that we have provided for many years to commercial clients in the New York/New Jersey area. We service all types of government buildings, performing duties to include the following.
Janitorial Services
American Maintenance & Supplies provides regular janitorial services for all types of government buildings. We offer routine services like emptying wastebaskets, surface dusting/polishing, vacuuming and sweeping, kitchen/break room cleaning, restroom cleaning and sanitization and other cleaning services to ensure a clean and healthy work environment.
Office Cleaning
Our experienced staff use environmentally friendly products to thoroughly clean government offices and buildings. We not only clean, but sanitize surfaces and fixtures, to increase the overall healthy environment of the office, decreasing the chance of germs surviving. This results in a more productive workforce, reduced absences and healthier employees.
Porter Services
American Maintenance & Supplies creates porter services solutions that are customized to the needs of each client. Our janitorial staff can provide all types of interior and exterior building maintenance. We offer services like ongoing maintenance of restrooms throughout the day, restocking supplies, snow removal, cafeteria and kitchen maintenance and boiler rooms and facilities management.
Floor Cleaning
The crew at American Maintenance & Supplies will make sure that your office floors are clean and sparkling, ensuring a great impression for visitors. We can provide regular cleaning and maintenance, as well as periodic waxing and buffing, which increases the floor's longevity. We use professional equipment and high quality products so that your floors will be clean, sanitary and gleaming.
Carpet Cleaning
Carpets can trap all sorts of debris and pollutants, especially when they are trod daily by multiple people. This dirt will not only look bad, but lessens the life of your carpet by deteriorating the fibers. American Maintenance & Supplies will clean and shampoo your carpets using our deep-cleaning system and safe chemicals to extract the dirt and pollutants. When our cleaning is finished, your carpets will be clean and dry to the touch.
Window Washing
Many government facilities have windows that need cleaning, and we can do it. American Maintenance & Supplies will make sure the windows are clean and sparkling. And of course, we use environmentally safe cleaning solutions.
Pest Control
American Maintenance & Supplies offers pest control through a subsidiary company. We provide services to eliminate different kinds of pests such as beetles, mosquitoes, bedbugs, flies, rats, ticks and the like. All staff are highly trained and experience in pest control services and equipped to protect your buildings from infestation these pests.
Contact Us to Learn How We Can Help Keep Your Government Building Clean
No matter what type of janitorial services your government building requires, American Maintenance & Supplies can help. We will gladly customize any of our services for your specific requirements.
Contact American Maintenance & Supplies to see how we can provide the highest quality of maintenance to your government office or building.